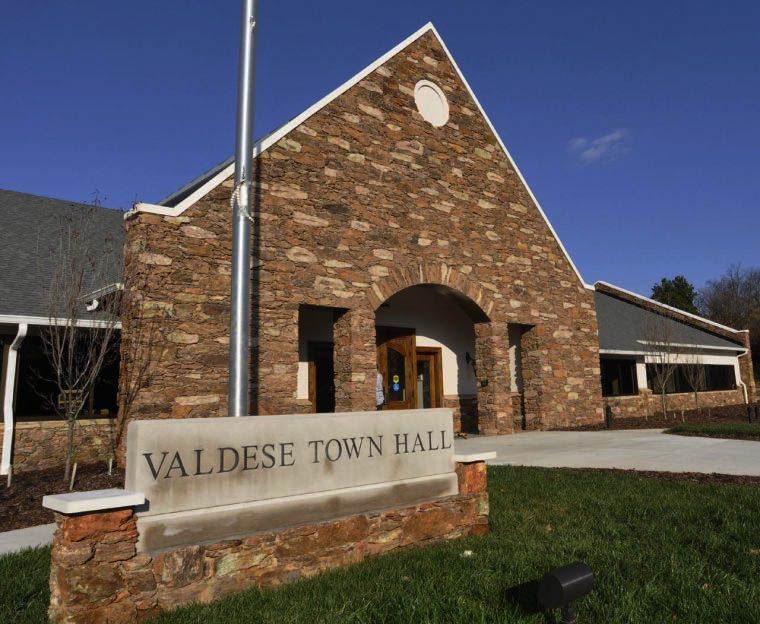 P.O. Box 339 (mailing) 102 Massel Avenue South West Valdese, NC 28690
---
Opening of the Valdese Town Hall November 2011
Former Valdese Town Manager, Jeff Morse said, "We're very excited. This project has been on the drawing boards for six years." Former Valdese Mayor, Jim Hatley said, "It's something for the citizens of Valdese to be proud of, and it will please generations to come." 
One of the new features predicted to see heavy usage is the covered drive-through teller window for paying bills. Other features include exterior rock work in the old Waldensian tradition, wooden and glass double doors at the front entrance and curved glass walls with etchings depicting the history of Valdese. The council chamber is larger and accommodates about 60 audience members. A television monitor will allow for digital presentations and council members will have their own monitors. The new town hall includes offices for council members, an office for the mayor, an employee break room and a community meeting room equipped with a SMARTboard.
Upcoming Big Event

Town of Valdese Farmers Market
Community Alerts

The Town of Valdese invites you to enroll in CodeRED, our community notification system.