Ribbon Cutting at Retro Hair Design
Posted: 1 year, 5 months ago
---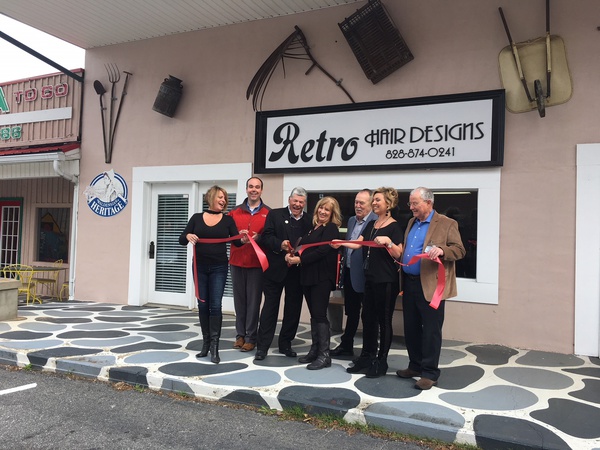 March 21, 2018 - Retro Hair Design hosts ribbon cutting celebration at their new location in Valdese.
Retro Hair Design, a thriving full service salon in Downtown Valdese since 2007, now has a new location at 143 Bobo Avenue NW one block off of Main Street. On Wednesday, March 21st, the salon owner, stylists and Town of Valdese elected officials and staff commemorated the new location with a ribbon cutting celebration.
The salon is represented by the talents of owner Sandra Fullard, Brooke Phillips, Monica Feimster, and Renee Webb who collectively have over 75 years of styling experience. The full service salon offers cutting edge techniques in cut, color, and styling. Other services include; makeup, facial waxing and styling for both prom and bridal.
Their new location offers convenient parking and a stylish waiting area. For an appointment call 828-874-0241 and walk-ins are always welcome. Current clients are invited to participate in the salon's referral promotion. Referral cards are available at the salon and once a client makes five referrals, the client will receive a free cut and color.
For information about the businesses in Valdese or for how to open a business in Valdese call 828-879-2126 or go to visitvaldese.com.
Recent Posts
Categories
Feeds
RSS
/
Atom