LPDA - Finishing Touches
Posted: 1 year, 3 months ago
---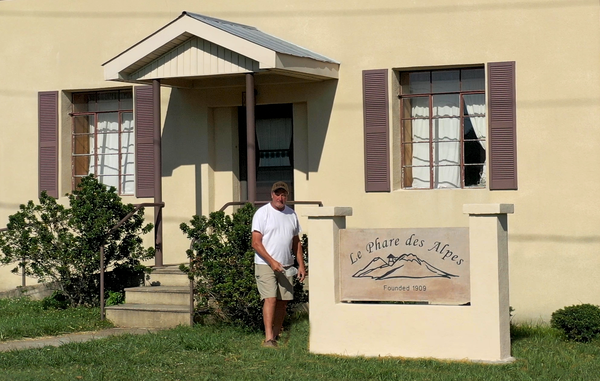 The Valdese LPDA – host of the Western Regional Bocce Tournament on August 10 – puts the finishing touches on its "old" new sign at 301 Laurel St SE in Valdese.
Le Phare des Alpes (LPDA) was founded in 1909 by the Waldensian settlers as a mutual insurance cooperative. It continues today as a service club that, among other things, promotes Valdese as the "Bocce Capital of the World." The Italian marble slab, acquired by the Waldensian Bakery in the 1920s was inscribed and mounted as a permanent reminder of the Town of Valdese's Waldensian Heritage and the Waldensian credo, "never throw anything away."
Several years ago, Mrs. Naomi Rostan gave LPDA the marble slab that was used in the original Bakery, which stood behind the present MacDonald's, to roll out dough for loaves of French bread. The slab was moved to the bakery's current location in 1929, where it was used until replaced by a large wood table and, later, by stainless steel tables. Repurposing the marble slab to the new sign was a club project. Several members dug the footer, mixed concrete and hauled the masonry materials purchased with donations from two members. Jeff Mcgee (pictured) Custom Stone, supplied the masonry expertise.
On August 10, during the annual Waldensian Festival, LPDA will host the Western Regional Bocce Tournament at 301 Laurel Street SE, the site of the only covered bocce courts in North Carolina. The top three teams will qualify for the NC State Bocce Tournament on September 7, also hosted by LPDA. A team registration form and additional information can be found at www.lpda.us