GLORIOUS RETURN SHOP HOP FORM! DOWNLOAD HERE!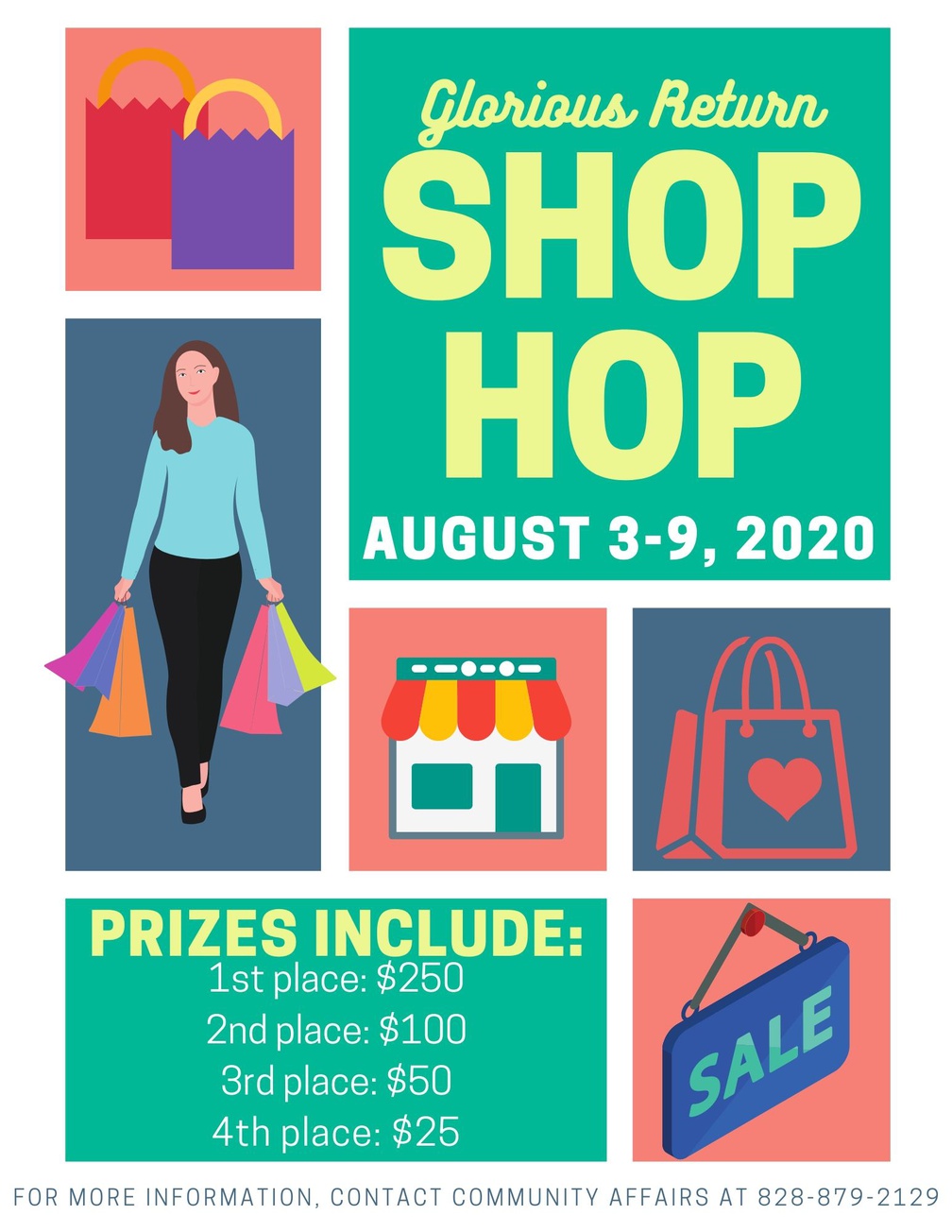 HOW TO PLAY: Download the form from this page (available August 3, 2020), or pick one up from outside of the Old Rock School to participate. Once you have the form, visit at least 15 of the participating businesses. Once you have collected as many as you possibly can (the more the better) drop your form in the submission box located at the west entrance of the Old Rock School or message a photo of your completed form to Town of Valdese on Facebook. The submission box will be outside of the Old Rock School during normal business hours Monday-Friday 8am-5pm beginning August 3 until August 10th at 5pm.
Want to double your chances to win? Visit the Burke County Chamber in Downtown Morganton and receive their stamp in the bonus space! 
The winner's will be drawn on August 11th, we will contact you with the information you provide on your form, so be sure to write legibly. Any forms with fewer than the required number of stamps or no contact information will be disqualified from the drawing. 
**PLEASE BE RESPECTFUL OF ALL BUSINESS REQUIREMENTS IN REGARDS TO COVID19 MANDATES**
---
Special Thank You to all our participating businesses: 
The Valdese Stitchery
The Levee Brewery 
Blessed Mama Plus Size Boutique
Grace Jewelry
Brinkley Insurance
Thurston Springer Financial
WSVM Radio
Sam's Recycled Art
Mears Insurance Group
The Picnic Basket
Los Compadres Mexican Restaurant
Salon on Main 
Tranquility Day Spa @ Salon on Main
Mega Bite Baits
Junk in the Trunk Thrift Store
Farris Insurance
Bark Side Pet Grooming
Trail of Faith
My Cute Kid Boutique 
Settlemyre Nursery
Mimosa Beauty Salon
Bargain House Appliance
Myra's Antiques/Self's Treasures
Burke County Chamber & Visitor Center
---
WHERE'S WALDO?! Download Clue Sheet here!
Follow this list of clever clues to find Waldo all over town! Here are a few tips: 
Waldo is a round 4" sticker
None of these clues will lead you into a building, they will all be outside.
Waldo will be placed in inconspicuous areas around the clue site. 
None of these clues will lead you into dangerous areas - so please don't wander onto a waterfall looking for Waldo!
If you need any help, please feel free to message the Town of Valdese Facebook and we will be glad to provide you with additional help.
Be sure you maintain all social distancing measures and follow all NC COVID-19 mandates while playing.
HAVE FUN!
***If you are unable to download and print these forms, they will be available at the west side entrance of the Old Rock School***