Concerts at the Rock: Mile Twelve
Feb. 6, 2021, 7:30 p.m.
Although their sound is rooted in traditional bluegrass, Mile Twelve surveys a broader landscape on their newest album, City on a Hill. All five band members bring their own influences and observations into the music, resulting in a project that feels contemporary, thoughtfully crafted, and relevant.
"Original bluegrass music, written and played by young people, is very much alive," says band member Evan Murphy. "I hope people take away that songwriting and arranging really matter. It's about the material and playing it in a way that feels honest. This album isn't political in the sense that we're beating people over the head with anything, we just tried to tell stories that feel authentic."
The album title alludes to the idealized imagery of a shining city on a hill – a historical phrase that has often been applied to Boston, where the band got its start. Murphy adds, "We realized that many of the characters in these songs were in crisis, had been failed in some way, or were failing themselves. It's an unintentional theme but it came out in the songwriting."
The Mile Twelve lineup offers five of the most promising young musicians in bluegrass: David Benedict (mandolin), Catherine "BB" Bowness (banjo), Bronwyn Keith-Hynes (fiddle), Evan Murphy (guitar, lead vocals), and Nate Sabat (bass, lead vocals). All are credited as songwriters because everyone in the band helped shape the material throughout the writing and arranging process. Murphy and Sabat initiated most of the lyrical ideas for City on a Hill while Benedict wrote the instrumental track, "Rialto."
City on a Hill follows multiple IBMA Momentum Awards, presented by the International Bluegrass Music Association to emerging bluegrass artists. Mile Twelve won the band category in 2017, shortly before releasing their debut album, Onwards. The following year, Keith-Hynes and Benedict secured IBMA Momentum Awards in instrumental categories, while the band earned two major IBMA Award nominations for Emerging Artist and Instrumental Performance of the Year in 2018.
Those kind of accomplishments were far from anyone's minds when Murphy, Sabat, Keith-Hynes, and Bowness started crossing paths at house parties and pick-up gigs in Boston. In time, they recognized each other as regulars at a Cambridge dive bar called The Cantab Lounge during Tuesday night bluegrass jams. In 2014, they decided to start their own band. By gathering grassroots and industry support, they were well on their way when Benedict, who was living in Nashville at the time, relocated to Boston to join the band in 2016.
The band takes their name from the mile marker that sits at Boston's southern border on route 93, the city's main artery. It's a road sign they've passed countless times while heading out on tour. Through an active social media audience and radio support from terrestrial stations and Sirius XM, the band has found receptive audiences across the globe, touring all over North America as well as Ireland, Australia, New Zealand, and Japan.
Asked about the band's influences, Murphy cites Alison Krauss & Union Station for their precise arrangements and execution, the Del McCoury Band for their grit and groove, and the Punch Brothers for their genre-bending virtuosity. As for writing, Murphy praises the mastery of Gillian Welch and Jason Isbell for their ability to tell a fully-realized story within the confines of a three-minute song.
The Old Rock School in Valdese, North Carolina has become well-known throughout the nation for its outstanding bluegrass concerts. The 500 seat auditorium is the perfect place to hear all of your favorites. All of us at the Old Rock School are very excited about the 2020-2021 season featuring bands that have never performed at the Rock before, mixed with classic favorites. The handicap entrance is located at the side of the building (elevator).
Individual tickets go on sale August 1, 2020. Season tickets available now.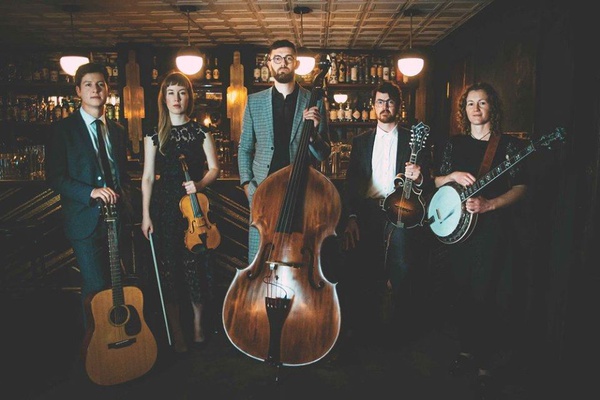 Get Tickets >
---
Location
Old Rock School
400 Main Street West
Valdese, NC 28690
---
Contact Information
---
Other Times