Concerts at the Rock: Carolina Blue & The Malpass Brothers
March 19, 2022, 7:30 p.m.
Carolina Blue is a Brevard, NC based band whose roots run deep in the tradition of Bill Monroe. The band was formed in 2007 after the release of the album Nothing So Blue by Bobby Powell and Tim Jones. Carolina Blue won the South Carolina state bluegrass championship at RenoFest in 2011. They also received their first Vocal Group of The Year Nomination at the 2018 SPBGMA Awards Show. They have appeared on the hit TV show "Song Of The Mountains" as well as "The Bluegrass Trail" series on RFDTV. The band's repertoire consists of original songs, many bluegrass favorites, and gospel, too, all done in the traditional style. Their most recent Pinecastle Records release, I Hear Bluegrass Calling Me, debuted on Billboard's Top 5 Bluegrass Albums chart, has just recently made its debut on the National Bluegrass Survey's Top 15 Albums chart, and has produced their #1 hit song, "Rusty Rails." Band members are Bobby Powell on guitar and vocals, Timmy Jones on mandolin and vocals, Reese Combs on upright bass and vocals, James McDowell on banjo and vocals, as well as American and Canadian Grand Master Fiddle Champion, Aynsley Porchak on fiddle, a recipient of the 2018 International Bluegrass Music Association's Momentum Instrumentalist Award.
-----------------------------------------------
As young boys, Christopher and Taylor Malpass soaked up the music of their granddad's phonograph records. Christopher earned his first talent show trophy at age 7, and Taylor was playing mandolin by the time he was 10. Today, they promote the work and music of classic country artists they treasure while creating new music and making their own mark in the lineage of a rich American cultural heritage.
With sincerity, honesty and an utter ease on stage that belies their years, their smooth vocal blend and skillful musicianship layer infectiously into the deep respect they pay to legends who have paved the way. Add the funny, off-the-cuff quips between the two 20-something siblings, and the engaging concert becomes a magnetic time-traveling journey to when a calmer rhythm reigned supreme.
The Malpass Brothers toured with the late Don Helms, former steel guitarist for Hank Williams, have opened for music legend Merle Haggard on multiple tours and appeared on stages from the Shetland Islands to Ryman Auditorium to Merlefest. Gifted musicians and songwriters, the brothers have shared billing with artists including Ray Price, Willie Nelson, Doyle Lawson, Rhonda Vincent, Marty Stuart, Doc Watson and more. The title cut video from their "Memory That Bad" album hit CMT Pure Country's Top Ten. Their most recent self-titled recording, produced by bluegrass legend Doyle Lawson, was released by Crossroads' Organic Records in 2015.
This is the real deal, folks. There is no pretense. This is music steeped in the legacy of the Louvin Brothers, Johnny Cash, Marty Robbins, Hank Williams, Sr. & others. Count on classic, real country. Count on new Malpass tunes. Count on a couple of old-time traditional gospels. Count on their probably coming down into the house at intermission and asking what you'd like to hear. Count on giggles and ribbing between brothers. Count on some big hair and fancy boots and maybe even an Elvis twitch or two. Count on lines at the merch table – and count on logging on to find out where and how soon you'll be able to see them next!
The Old Rock School in Valdese, North Carolina has become well-known throughout the nation for its outstanding bluegrass concerts. The 500 seat auditorium is the perfect place to hear all of your favorites. All of us at the Old Rock School are very excited about the 2020-2021 season featuring bands that have never performed at the Rock before, mixed with classic favorites. The handicap entrance is located at the side of the building (elevator).
Individual tickets go on sale August 1, 2020. Season tickets available now.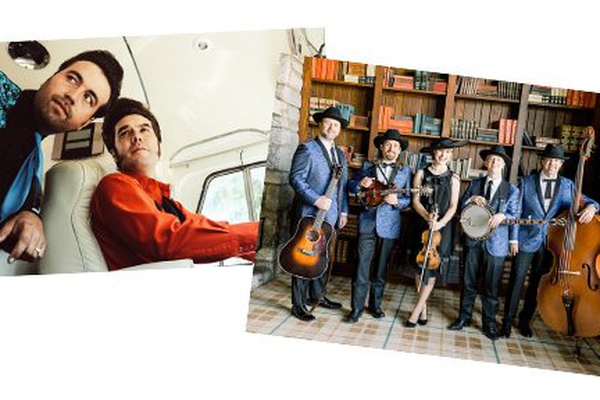 Get Tickets >
---
Location
Old Rock School
400 Main Street West
Valdese, NC 28690
---
Contact Information
---
Other Times