Sources for COVID-19 updates and information:
---
Miscellaneous Resources:
TOWN OF VALDESE UPDATES: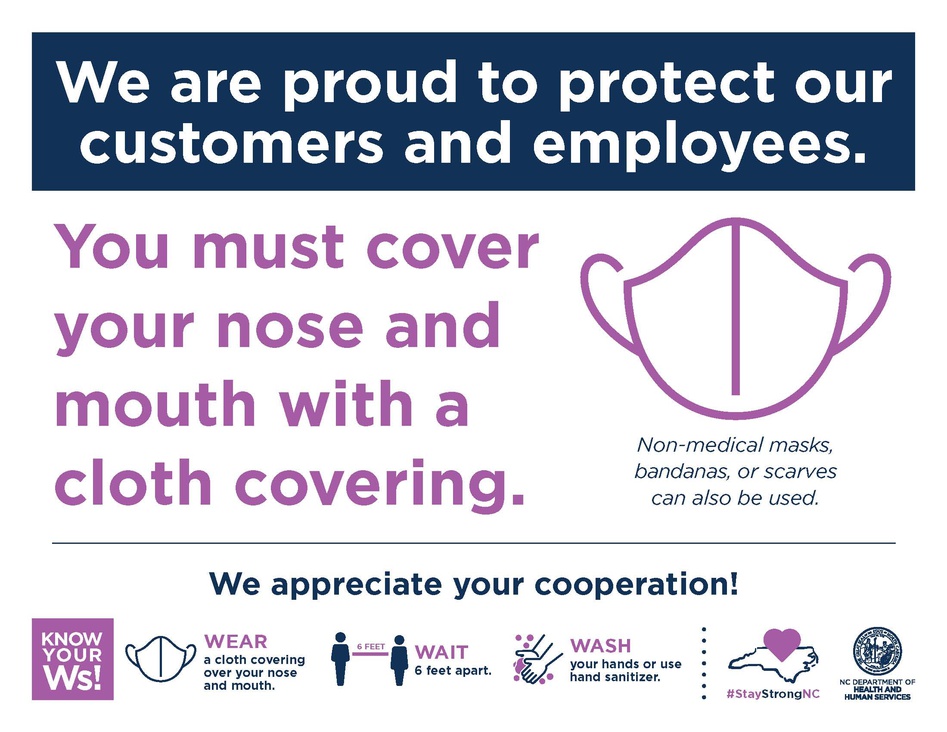 Amid the growing concern surrounding COVID-19, the Town of Valdese, in accordance with the most recent recommendations from the Center for Disease Control and Prevention and North Carolina Department of Health and Human Services, have decided that effective March 17, 2020 to close recreation facilities, the Old Rock School and suspend all Town sponsored events until further notice.
Recreation Department Closures and Cancellations

The Town of Valdese Parks and Recreation Department will open its pool only with limited hours (see Facebook post) beginning June 8th.  The remainder of the Community Center, including the Fitness Center, Gymnasium, and Bowling Center will remain closed until we get better direction from the Governor's office when phase 3 is enacted.  We will update the site when we receive new information. The Playgrounds and Splash Park will also remain closed until the Governor opens up public playgrounds.  We anticipate opening reservations for Park shelter rentals when phase 3 is put in place.
Parks and open space provide necessary respite, especially during challenging times. Park open space and greenways will remain open to visitors, therefore McGalliard Falls Park and Lakeside Park will continue to be open and available. We invite you to breathe in the fresh air and enjoy nature, but please remember to follow social distancing guidelines and remain more than 6 feet from others. Citizens can call (828) 879-2132 for more information.
Old Rock School & Community Affairs

All events and meetings at the Old Rock School and Teachers Cottage have been canceled until further notice, per recommendations from the CDC. This also includes all meetings, programs and events held by Old Rock School annual lease tenants. The buildings will remain closed to the public for the duration of this time. This does not include services provided by Burke County at the Teachers Cottage – Meals on Wheels. Please contact the Burke County Health Department for details on this program (828) 764-9150. If you have an event scheduled and have not spoken with Community Affairs staff, or if you have questions, call (828) 879-2129 for more information.
Utility Bill Payments
The Town of Valdese is suspending disconnection of utility services for non-payment of bills for residential customers for the next 60 days, pursuant with NC Executive Order 142. Customers can still pay their bills online at townofvaldese.com, by using our drop boxes located at the drive-thru, or by using our drive-thru at Town Hall. Customers who have questions may contact our business office at (828) 879-2120.
At this time, Town offices will remain open for business, and garbage collection will operate on a normal schedule. Our Utilities, Streets, Public Safety, and Sanitation departments all continue to operate as normal. As this situation is fluid, please check back for updates on the Town's Facebook page and website.
The Town of Valdese respectfully asks anyone who is ill or sick to stay home. We encourage customers to practice social distancing and conduct any business they may have with the Town by phone. You can reach us by calling (828) 879-2120.
---
NORTH CAROLINA DEPARTMENT OF HEALTH & HUMAN SERVICES UPDATES
June 26, 2020 | NC Phase 2 Extension | Executive Order 147
 


An innovative, first-of-its-kind technology, NCCARE360 links health care providers and individuals to organizations that address non-medical drivers that have a huge impact on health, such as transportation, food, housing, employment and personal safety. Do you have needs not being met? Call 2-1-1 or visit https://nccare360.org/request-assistance/
 
---